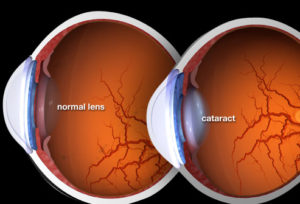 Cataract surgery is a common procedure – but do you really know what cataracts are? They occur when the lens in your eye becomes cloudyand impairs your vision. Chances are, if you live long enough to become a senior citizen, you'll have the need for cataract surgery.
Here's the good news…
Traditionally lenses with cataracts are removed and replaced by a clear lens to correct/improve vision. Significant changes in technology now make the procedure more effective and safer. While some surgeons still use a scalpel to make the incision, more often, a laser integrated with 3D imaging is used for better precision. The pulsating beam softens the defective lens and makes it easier to remove. Easier removal makes the whole procedure safer.
Intraoperative wavefront aberrometry is another advance that allows surgeons to choose the best lens power for individual patients. Doctors may also be able to correct astigmatisms which are imperfections in the shape of the cornea. Don't worry if you can't pronounce this – just know you have a better chance of getting the best vision possible with it.
Finally, there's the possibility of developing eye drops to prevent or even reverse cataracts – but they are still in the experimental stage. What's important is how cataract surgery continues to get easier and safer for everyone who needs it.