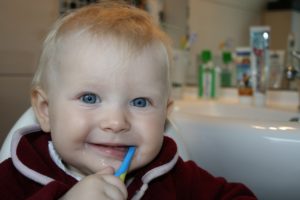 Every February, the American Dental Association (ADA) sponsors National Children's Dental Health Month to raise awareness of good dental health in children and how this affects them later in life. Maintaining healthy teeth and gums when people are young does have lasting benefits. For one thing, it leads to fewer and shorter visits (and probably less tears!) to the dentist. It also produces prettier smiles!
Even more important, good oral health prevents more serious illnesses such as heart disease, diabetes and respiratory infections. When kids establish good habits early on, they're more likely to avoid these and other poor health conditions as adults.
Currently, thousands of dedicated professionals, healthcare providers and educators lead the effort. This year the theme is "Brush and clean in between to build a healthy smile." Through press releases and distribution of materials, the push is to promote good oral health to children, their caregivers and teachers across the country.
Getting the kids involved adds weight to the movement. To do this, fun activity sheets that include coloring and puzzles are available online. These sheets can be found at www.ada.org.