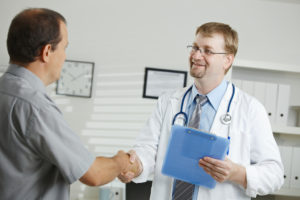 Three Important Words Regarding Colorectal Cancer
Preventable. Treatable. Beatable.
In spite of the progress made in diagnosis and treatment, cancer – sometimes called the big "C" – continues to strike terror any time we hear it. Colorectal cancer is no exception and for good reason. It's the second-leading cause of cancer deaths overall. That's why you need to understand what steps to take so it doesn't threaten your health.
When it comes to prevention, several screening tests are available to detect colorectal cancer early. Almost all colorectal cancers begin as abnormal growths known as polyps in the colon or rectum. Through screenings, these polyps can be found and removed before they turn into cancer.
Even if the polyps have turned cancerous, early detection finds them soon enough to remove and, if necessary, initiate follow-up treatment.
Here's the good news.
It's not uncommon for patients to beat this cancer completely when action takes place as soon as possible. The month of March is dedicated to Colorectal Cancer awareness. Find out how to take the fear out of colorectal cancer by clicking here. 
Just remember – colorectal cancer is preventable, treatable, and most important…beatable.