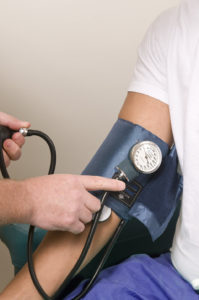 When it comes to children, it would be nice to state what numbers constitute a normal blood pressure reading. Here's the problem. "Normal" blood pressure numbers change as children grow. It's further complicated by the fact that high blood pressure tends to be asymptomatic. So what's a parent to do?
For one thing, be aware that family history is a high risk factor. Since testing is easy, get your child's blood pressure checked at his or her next doctor visit. Checks can begin as early as infancy for children with conditions like premature birth, heart and kidney problems. These and other medical conditions raise blood pressure for young children up to age 10.
Non-medical causes tend to be lifestyle related. Children on poor diets with little exercise are subject to obesity – a major cause of high blood pressure at any age. To avoid medications, make lifestyle changes with better food and more exercise. This leads to weight loss and may be the only treatment needed. If that doesn't work, medications ranging from diuretics to beta blockers may be prescribed.
As with any medical condition, the earlier the diagnosis, the easier the treatment.